My basement is fun to take pictures in, because every few months it looks completely different. People love to graffiti everything up during shows and parties.
Its also fun to take pictures with Laura, because her hair color changes every other week! I used to dye my hair just as often, but now that I've been through the entire rainbow, I'm settling with turquoise hair. Uh-oh, does this mean I'm getting old and responsible? Only ONE hair color per year? I'm losing punk rock points as I type.
New stuff! I made a new version of my classic lace-up leggings. They now have a better fit and are made of higher quality fabric. They are available in 5 sizes, and for $5 extra, you can get a custom length. Starting price is $36. If you need a bigger or smaller size, send me an email and I can probably make a custom sized pair for you. (Only do this if you aren't afraid to give me accurate measurements of yourself. Several weeks ago a women refused to give me her measurements, then was surprised when her leggings didn't fit. Come on, people! I don't have psychic sewing powers!)
Also new:
Slashed purple t-shirt (Folter Clothing, S-XL, $26)
Shiny zebra mesh dress (5th Culture, S-L, $28)
Spiderweb tights (one size, $9.50)
I also took some better pictures of the Tripp NYC leopard jeans. $45, sizes 0 to 11. I'm still trying to get some size 13's, so send me an email if you want that size.
Website link: (scroll down front page to see new stuff)
http://store.derangeddesigns.com/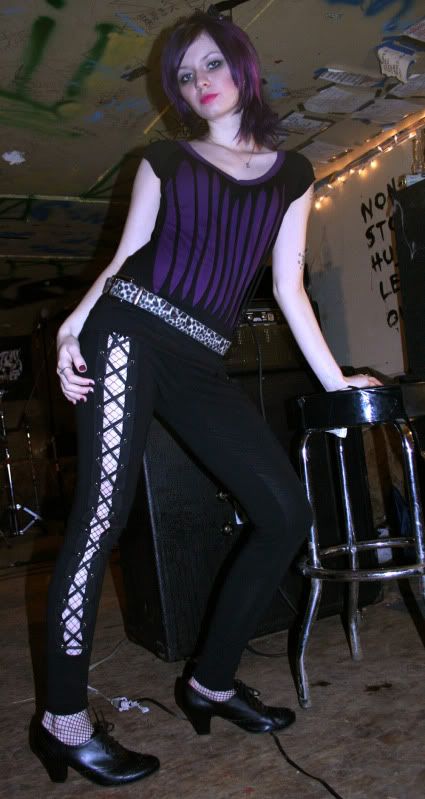 These were worn over black fishnet tights (sold separately)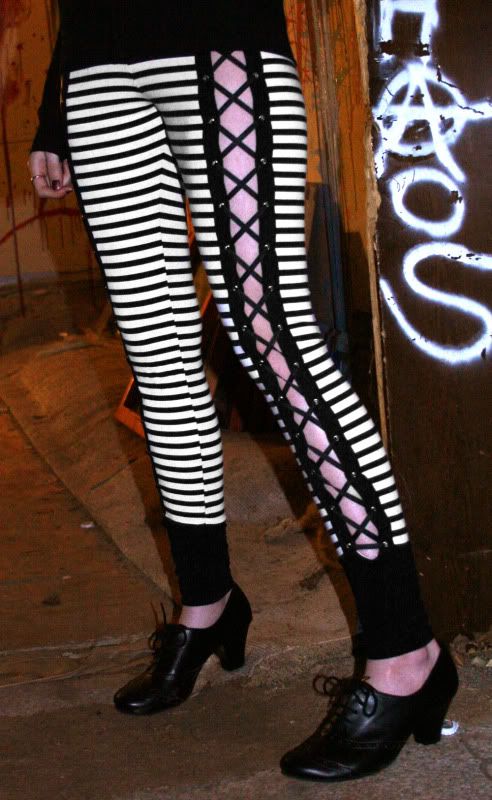 Lace-up leggings are now available in striped fabric!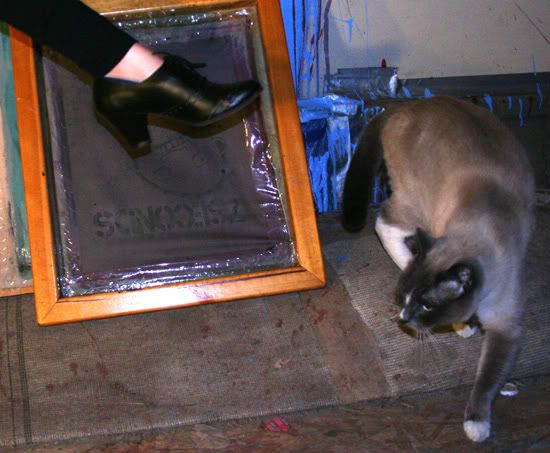 My cross-eyed cat Scarface decided to help out with the photo shoot.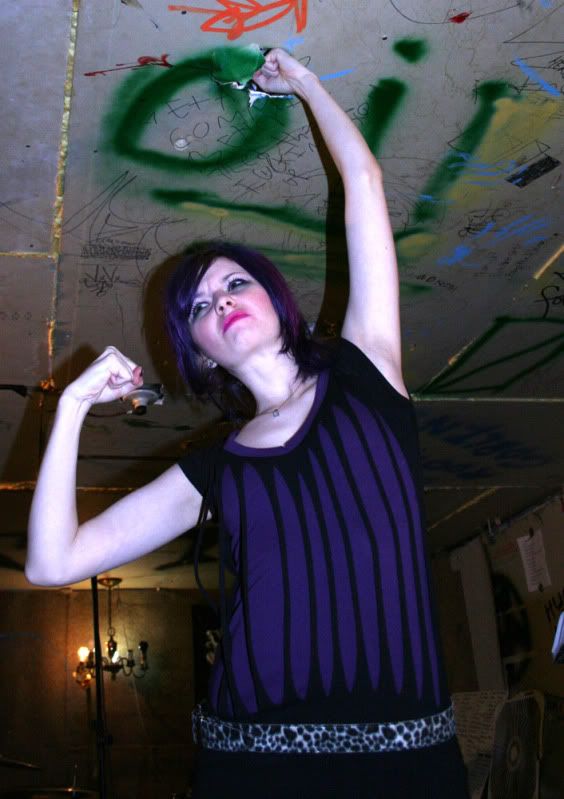 Ok Laura, I know the Oi! that I drunkenly spraypainted on the ceiling a year ago looks like shit, but you didn't have to punch a hole in it!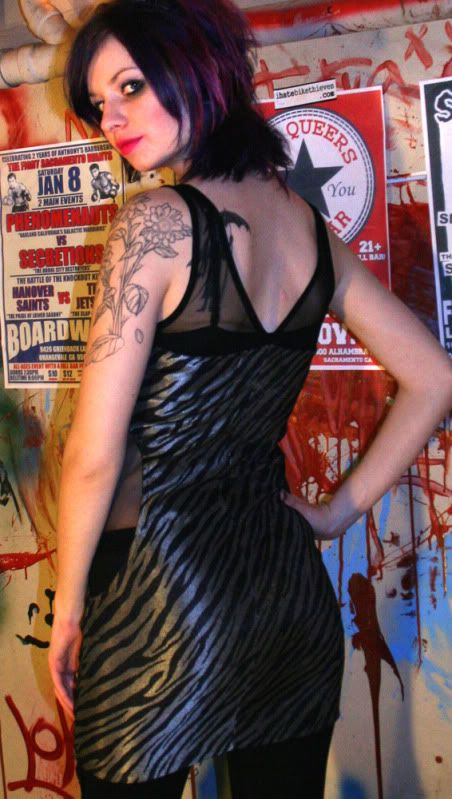 I like how the blue and red paint splatters match the flyers on the wall. Punk rock home dec at its finest!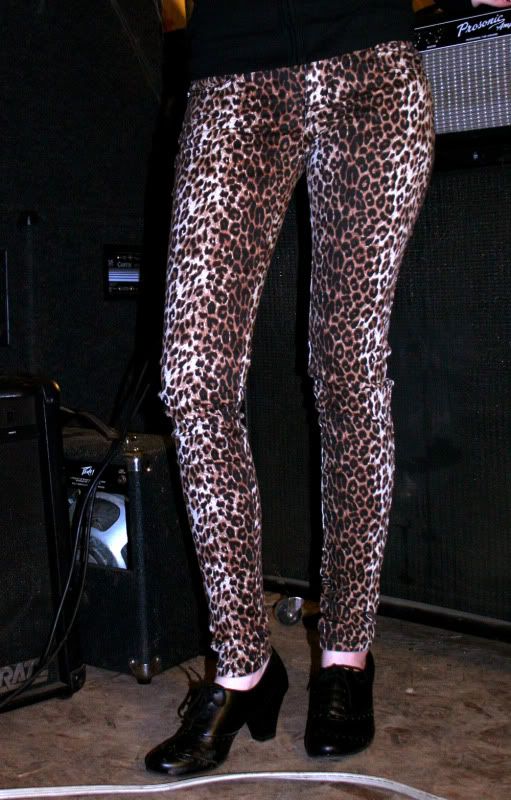 I really want to keep a pair of these for myself, so I'm hoping that they sell out before I give in to temptation.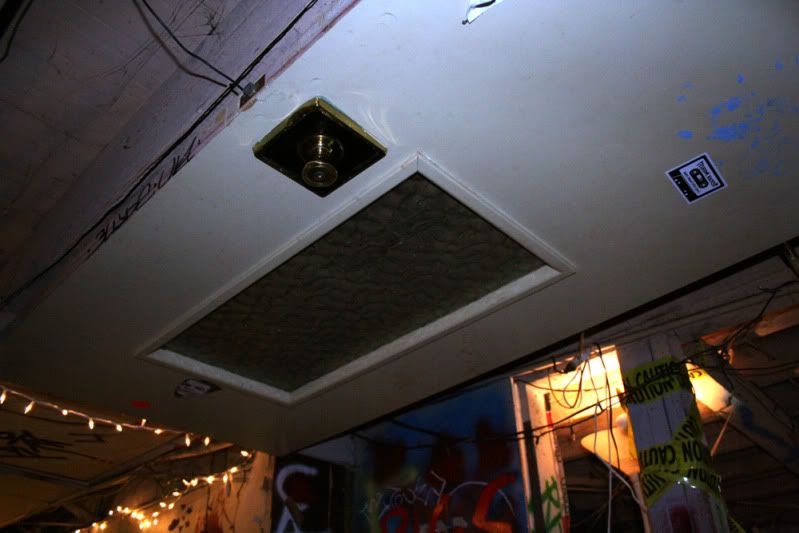 My basement has a door bolted to the ceiling. And it actually works! Though I don't feel like explaining how. Figure it out yourself. While you're at it, figure out how this damn house is still standing.
We might be having a last-minute basement show on Monday. More info on that later.