This is my second blog post of the day. HELP, I'M STUCK TO MY COMPUTER! The viruses that I accidentally downloaded last night have spread to my brain! (Who knew that looking up CSS codes on Google could land me in so much trouble?)
Actually, I'm no longer letting myself drink while I update my website and post blogs, so I'm bored and aching to get away from the screen. The only thing I have to get me through this blog post is the live Clash album playing on my stereo that I've been addicted to for the past year. I own hundreds of CD's, yet I only listen to like, six bands. It's bad. My friends hate getting rides in my car, because I never put new CD's in it. Somebody buy me an iPod.
ANYWAYS! NEW TIGHTS AND LEGGINGS! New dress! New reversible hoodie! Well actually I kept the hoodie for myself, but you can order one in the same print or a different print! Yay!
The latest photoshoot me and Laura did was at my friend Bri's apartment. Two weeks ago, I decided to find an indoor spot for a photoshoot for Nov. 3rd, since I thought it would be all rainy and gross outside. So Bri volunteered her Pink Palace. Pink everywhere! Of course, the day of the shoot was about 80 degrees, and actually warmer outside than inside. Oh well.
I was hungover and tired too, it was the day after my birthday. We still had fun. As usual. (Proof that global warming is a thing: the past two years, its been 78 degrees on my birthday. This has never happened before in the great history of my birthday)
CLICK HERE TO GO TO MY WEBSITE AND BUY THE NEW SHIT
The links below will just take you to my Flickr account.
Vertical striped tights, $9.50. Blue leopard skirt will be for sale next week.
Oh no Joe Strummer, the CD is skipping! Again, somebody buy me an iPod.
Newsprint dress, small to large, $22. Before anybody freaks out and asks me where I got this fabric: this dress was made by 5th Culture, another clothing line.
Still waiting for the day that oriental flavored top ramen will sponser Deranged Designs. Because I really need more MSG in my diet. Yum yum yum. (If ramen doesn't want to sponsor me, Jameson would be a nice substitute)
Reversible hoodie...
Send me an email if you want a reversible hoodie. Price will be around $80. In a year I might have time to figure out a cheaper version. (Yes, a year. I'm taking a bazillion classes next semester and then hopefully graduating and then taking the summer off. Fuck yeah.
Photoshop is fun. Bustiers will be up on my website next week.
Criss cross tights and slashed leggings are $9.50, basic fishnet tights are $4.50. The skirt in the top of this picture will also be up next week.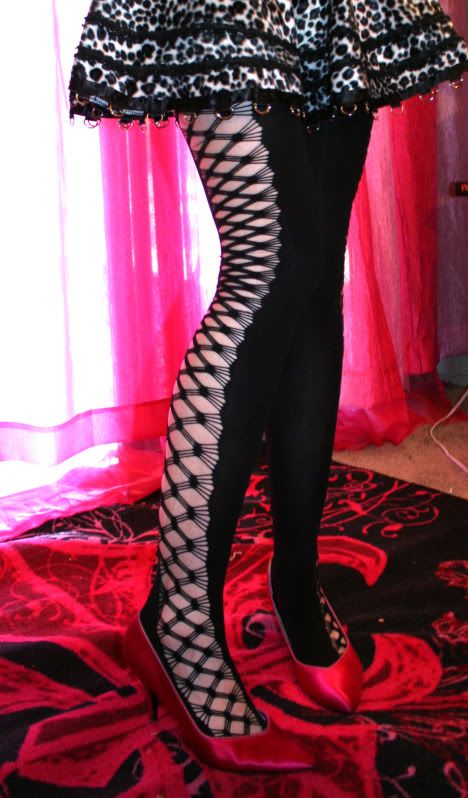 That's all for now. More new stuff next week. Thanks Bri and Laura!