None of the clothing in the photos is on my website yet, but it will be up for sale soon!
I've been sorting, uploading, and re-touching photos for the last three hours. Started out on the porch, now I've moved inside to the living room. Its hard to keep my attention on this type of thing for very long, so i like to people watch on the porch or watch movies I've already seen so I don't get too bored. Or distracted.
Showing tonight: The Day the Earth Stood Still. Old version, not new version. Watched the new version a few days ago. Keanu Reeves makes a great alien!
Anyways, tons of awesome new pictures! And this is only the beginning, I've got a lot more computer work to do in the next week. I mean month. Lifetime? Fuck.
I'll save my favorite photo shoot for last...
First shoot was done the beginning of this month, at my school. The fashion collections class set up a photo shoot with the fashion photography class. It was right before the fashion show, and I was so disorganized and stressed at that point that I wasn't able to get my usual models together or figure out hair and makeup, but the pictures turned out awesome.
Thanks to Jacqueline and Amber for photography, Aubrey (and myself) for modeling. If they have any Model Mayhem profiles or contact info I'll post it when I get it. Gotta send them emails first, only got these photos today.
Two of my favorite pics, more are on my flickr photo gallery:
School Photo Shoot
There were eight different backdrops set up for all the models and photographers but there were so many people running around that we just found some random new locations. The photo teacher, Dean Tokuno, brought photo equipment in his giant photo trailer. That guy amazes me. If this wasn't his last semester teaching at ARC (goddamn budget cuts!) I would recommend his class to any new and experienced photographers. I managed to take his fashion photo class a year ago, and though I've never spent the time to learn any technical aspects of photography (my camera still scares me!) I think I learned a lot from him. He's one of the few people in my life who have encouraged me to recklessly go after my dreams and not waste any time. He grew up on, I quote, "a dirt farm in yuba city" and from what I gather rose to the top. He's not one to brag so I'm not sure how many big magazines his work has been featured in, but he did mention working with lots of celebrities and the supermodels in the 90s- Linda Evangelista and the other 10 grand a day girls. More recently, his daughter was a runway model for Oscar de la Renta. HOLY shit...
Now on to the 2nd photo shoot! I'll try to keep this description brief. I think the movies almost over! God knows whats been happening. Does Mrs. Benson still not know what Mr. Carpenters identity is? Ah, the 50s. So, several weeks ago
Loriel Andre'a
contacted me about clothing for a goth-themed photo shoot she was organizing. I would have liked to make custom stuff for the shoot, but didn't have time since it was three days after the semester ended and I had too much homework. So I just lent some current designs and some stuff from the fashion show. The pictures turned out WONDERFUL...I need to do more shoots with these people!
Photography by Tim Engle. Model credits coming soon. Location was an old sugar mill a little way south of Sacramento.
I have too many favorite photos to choose out of this, so might as well go to the photo gallery right now:
Goth Photo Shoot
Whatever, here are a few of my favorites: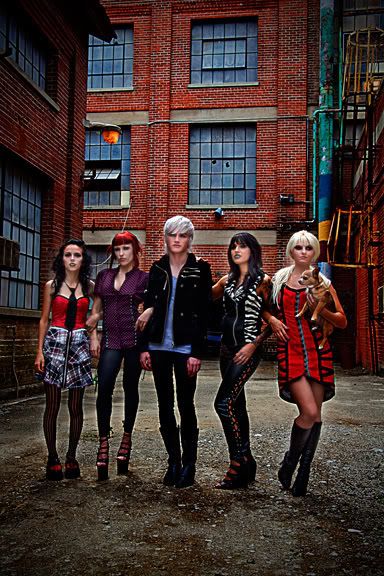 Somehow this picture reminds me of shots of the cool crowd in silly high school movies. Look, mom, I'm finally popular! Wait no, its more like a picture of a really good-looking band.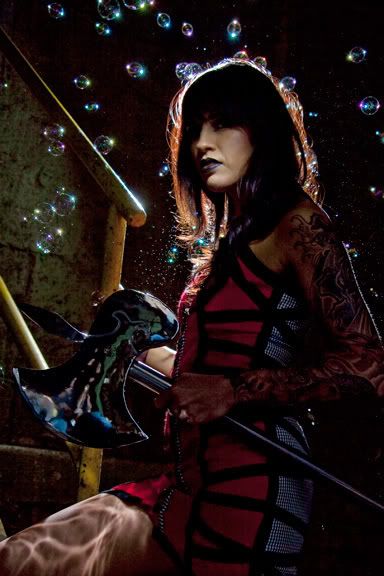 So THAT's the best way to pop those pesky bubbles.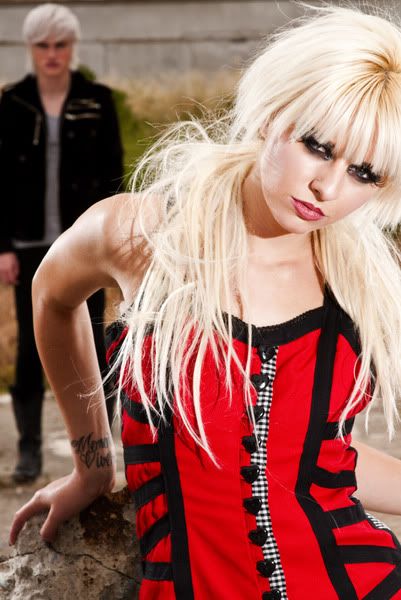 Loriel is a fucking badass.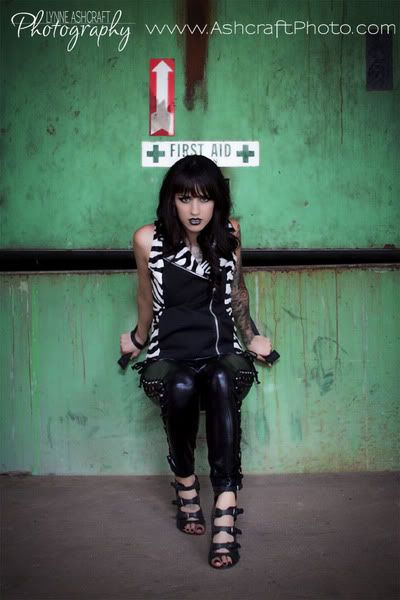 Yeah, this girl too.
Uh oh, looks like they quarantined Washington DC in the movie. Hmmm, doesn't seem like a bad idea does it?
Oh, shit, now alien is teaching Mrs. Benson to say the words from that evil dead movie...like what you were supposed to say to not make the zombies eat you...klatu verata icNevermind I'm crazy, go look at all the pictures on flickr!